EnerStore DC Battery Energy Storage Systems (BESS)
Control & Equipment for Energy Storage Systems
EnerStore Battery Energy Storage Switchgear
APT EnerStore Battery Energy Storage System (BESS) provides state-of-the-art grid/microgrid stabilization for renewable generated power, including solar, wind, etc. This energy storage system switchgear can be standalone NEMA 1, or outdoor NEMA 3R. It can also be combined with low voltage switchboards, transformers, and medium voltage switchgear in a single Outdoor Walk-In ISO Container Based Solar Power Combination Module. Stabilize your renewable power system with an EnerStore Battery Energy Storage System (BESS).
Enables using battery energy storage to support the grid for:

Frequency regulation
Increase available fault current (therefore improve motor starting and inrush loads capability). Sub-transient reactance %X'd=21%
Voltage regulation/Reactive Power support
Peak Shaving

Optimizes operation of renewable (Solar & Wind) and conventional sources of power:

Configuration option to automatically charge batteries during high production by the renewables or during hours of low overall demand.
Automatically supplements grid power during high demand hours or as dispatched by the Utility Co. SCADA control.
Enables the automatic use of battery energy storage as a source of emergency power during power grid outages. Modes of operation include automatic, closed transition, bumpless load transfer between the utility grid and Battery Energy Storage Generator.
Empowers the automatic use of connected renewable sources as a source of emergency power during utility grid outages. This increases the available batteries' run time.
Could be designed as a power conditioner to provide galvanic isolation between the utility grid and critical site loads. This happens while servicing as an uninterruptible power source to the site load.

Can be configured as 50 Hz power source to provide shore power to 50 Hz loads
APT EnerStore BESS can be configured to automatically provide the following functions and major modes of operation simultaneously:

Black start
Utility Grade Uninterruptible power supply system
Peak Shaving
Frequency regulation
Voltage/Reactive Power support
Optimization of the operation of the renewable power sources
EnerStore Battery Energy Storage System Advantage
Using APT RotoVerter Generators & BrightPwr PV System with BESS over traditional inverter-based systems
Produces galvanic isolation between the DC input and AC output.
Fully automatic microgrid forming island mode of operation with high available fault current (subtransient reactance %X'd is approximately 12%) and robust motor starting capability (support locked rotor kVA of 1 P.U. at 0.6 PF).
Three phase AC output with THD of less than 3% at no load.
Automatic, closed transition, bumpless load transfer between the utility grid and microgrid.
Also allows paralleling and load sharing with unlimited number of similar generators and with third party diesel, natural gas, or biogas driven generators.
Enables operation of solar PV with grid connected inverters, isolated from the utility grid in case of grid outage.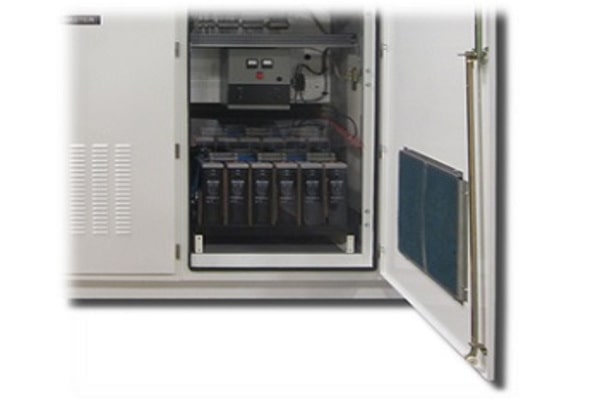 Battery Energy Storage System Switchgear Fact
It is designed to use most of the known or commercially available battery types and technologies. Lead-acid and lithium-ion technologies are the most proven and commonly used battery technologies as of now. APT will provide the most appropriate battery technology for the application. EnerStore DC Battery Energy Storage Systems (BESS) are equipped with the APT Battery Energy Storage Generators.
APT Control System Modules
Advanced Power Technologies (APT) offers a full range of:
Intelligent power distribution systems
Low and medium voltage switchgear
Walk-in equipment buildings
And more!
We design and build our products in-house, based on how you would like it to be. APT has many different options to create the best and reliable switchgear for your power system.
APT will provide a comprehensive system commissioning and integration once we install our equipment. We will continue our ongoing support during the lifetime of the installation, including:
Field service upgrades
Retrofits