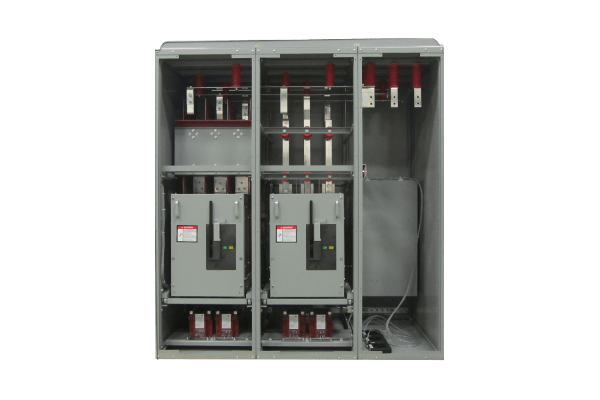 Vacuum Interrupters & Visible Disconnect
Fixed mounted vacuum circuit breakers, installed on rollers. Rollers are provided to simplify the field removal of the circuit breakers.
Integral manual charging handle.
High-speed operation – complete fault clearing in less than 3 cycles.
Hermetically sealed vacuum interrupters protect contacts from corroding elements and contamination.

Copper chrome contacts provide superior dielectric strength.
Easy maintenance with contact wear indicator is provided on the vacuum interrupter moving stem.
Periodic visual inspection recommended.

Inline visible air-disconnect switch, pad-lockable in open and/or closed position, to ensure personnel safety during power system service, maintenance, and repairs.
Symmetrical Interrupting Capacity at 2.4kV-15kV

12kA, 25kA, 31.5kA, 40kA, 50kA
Power Solution Information
The APT Front Access Switchgear is a Compact Medium Voltage (2.4kV – 15kV) air insulated SF6-free Switchgear that utilizes state-of-the-art innovative switchgear design methods and technology. This allows for a smaller and lighter design that offers the peace of mind of visual assurance of full disconnection through the main bus connection window. This makes the FAC-Series the safest Medium Voltage Switchgear on the market. With each section's small footprint (26″W x 38.5″D x 80″H), it will fit in places traditional sized switchgear cannot. It's also easy to install on-site, reducing assembly time.
Product Features
Space saving Front Access Only design can be placed against the back wall.
Smallest footprint 15 kV air insulated switchgear on the market, each section is only 38.5" deep and 26" wide.
Increased operator safety:
o Remote controllable design.
o Completely metal enclosed dead front.
o Provision for connection of field grounding cables.
o Removable metal panel for viewing blades position of the visible disconnect air insulated switch (through Lexan protected viewing window).
Complete front access to all the components, bus and bolted joints.
Easy to maintain & environmentally friendly:
o 100% air insulated, no SF6 gas used.
Modular, slideout design of the major power switching components to minimize the downtime, should component replacement or repair be needed.
Lower cost of installation: Insulating barriers provided between the phases, no need to tape or boot field cable terminations.
All bus is manufactured from silver plated copper.

Symmetrical Bracing Capactiy of 2.4kV-15kV

25kA, 31.5kA, 40kA, 50kA, 100kA

Protective Relaying Applications:

Utility Intertie & Paralleling Protection
Advanced Generator Protection
Tie Protection
Transformer Protection
Feeder Protection
Various Differential Protection Schemes

Typical Relaying Functions:

25 – Synch Check
32 – Reverse Power
50/51 – Inst./Time Overcurrent
50N/51N – Inst./Time Ground Overcurrent
27/59 – Under/Overvoltage
59N – Ground Overvoltage
81U/81O – Under/Overfrequency
40 – Loss of Excitation
60 – Current Balance
67 – Directional Overcurrent
86 – (LO) Lock-Out Relay (Knob Grip)
87 – Differential Protective Relay
87B – Bus Differential
87G – Generator Differential

Pistol Grip Circuit Breaker Control Switches provide a red and green target to indicate circuit breaker position status.
Test Switches provide a safe, simple, fast and reliable method to isolate, test, and service installed equipment without disturbing the power system.

Allows for quick and easy multi-circuit testing by conventional test methods.

Test Plugs enable easier measurement, calibration, verification and maintenance of relays, meters, PTs, & CTs.

Conveniently connects devices measuring the currents and voltages being applied to the relays, meters, PTs, & CTs without interrupting or short-circuiting the circuit.

Voltage Transformers (PTs) and Current Transformers (CTs) contain auxiliary drawers that accomodate fuses, control power transformers, or voltage transformers.

Secondary Self-aligning Contacts accommodate up to six independent circuits.
For operator safety these devices are automatically grounded during movement to disconnected position.
PTs Available in Wye or Open Delta Voltage Sensing Configurations.
CTs for Relaying/Power Sensing, Differential, or Ground Fault sensing available in standard or Revenue Grade Metering Accuracy.